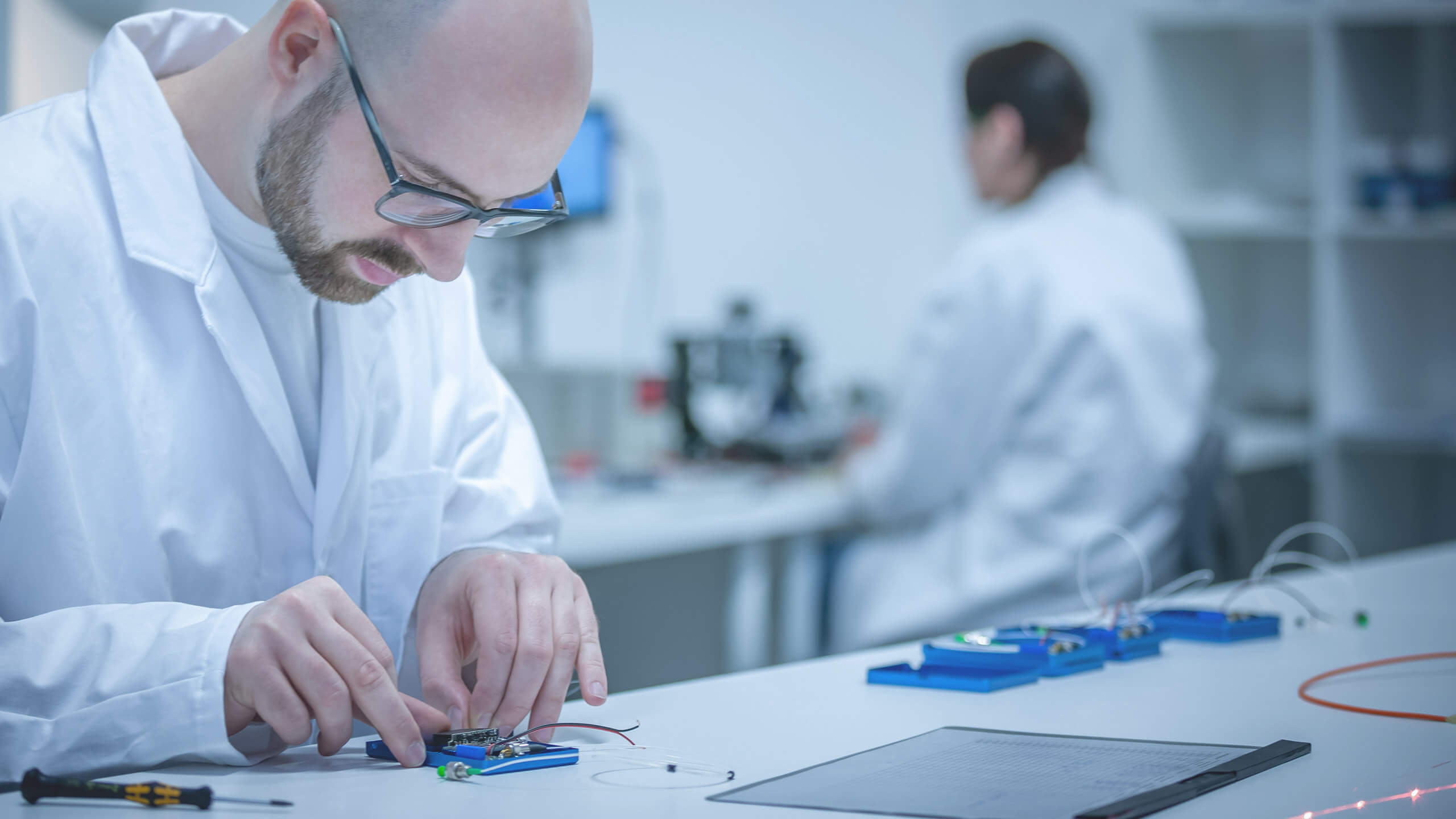 About us
FiSens – Cutting-Edge Fiberoptic Sensing
FiSens is a high-technology company based on strong roots. Learn more about our experience, fields of expertise or history.
Profile
We Combine Advanced Technology with Manufacturing Excellence
We are a team of several physicists, engineers and production experts. Our vision is to enable others creating even better, more intelligent and safer products utilizing our fiberoptic sensing product platform.
For more than ten years we have been developing our own fully-automated manufacturing processes for high-volume production of fiber optic sensors and fiber-integrated spectrometers.
Behind our Products
Insights & Impressions
Combined experience of over 30 years
Background
2017
As a spin-off from Fraunhofer Heinrich-Hertz-Institute and formerly funded by the Photonics Incubator, our company was founded by Dr. Christian Waltermann and Philip Erik Guehlke in September 2017 in Braunschweig, Germany.
2018
Series-A financing led by Extorel GmbH (Prof. Falk Strascheg), Carl Baasel, and NBank Capital.
2019
Start of new high-volume fs-laser factory and launch of first fiber-integrated spectrometer FBG-Interrogator X100.
2020
Doubling of the fs-laser production capacity and reaching Break-even milestone.
2021
Launch of first multi-channel FBG-Interrogator X400 for simultaneous measurement of up to 120 FBG sensors.
2022
Reaching production milestone of over 1mio. FBG sensors in more than 100tsd. fiber arrays.
A Team of Experts
FiSens Management
Dr. Christian Waltermann
Technical Director
Philip Erik Guehlke
Managing Director
Dr. Jan Koch
Head of Product Development
Dr. Wolfgang Schippers
Head of Research and Advance Development
Alexander Doering
Head of Sensor Production
A Team of Experts
Production and Logistics
Luis López
Head of Interrogator Production
Iwona Grabowska
FBG Production Expert
Jürgen Deller
Fiber Assembly Expert
Christoph Kania
Interrogator Production Expert
Stella Krull
Production Expert
Corinna Horn
Production Expert
Max Ringert
FBG Production Expert
Philipp Schuster
Head of Logistics
A Team of Experts
Research & Development
Vladislav Reimer
Research and Advance Development
Alexander Mehren
Head of Mechanical Design
Jeffrey Klepka
Product Development
A Team of Experts
Sales and Marketing
Metin Akar
Head of Sales and Marketing
Luisa Benger
Mediadesign and Marketing
Alejandro Lejtman Rotberg
Applications Engineer
A Team of Experts
Administration and IT
Andrea Dvorak
Head of Administration
Anna Pfeiffer
Trainee Administration
Frank Pfeiffer
IT Administration